In yesterday's post, I told you all about the questions that arose when decorating our foyer. To recap: I had decided on the following:
I wanted a table that was sort of open so the vent on the wall could do it's thing.
I plan on putting two small stools or poufs to the side of the table so I'll have them for extra seating when we have guests.
I'm not sure yet if I'll have one lamp or two but I'm leaning toward an asymmetrical look.
I wanted to hang my grandmother's old mirror on the wall above the table.
I wanted to go neutral with the furnishings and add color in the accessories.
But finding the right table proved to be quite a nuisance. Don't get me wrong – I was able to find many a table that I liked but unfortunately my desires don't usually match my budget. (Like never.) I've tried to forget about the ones I fell in love with because I don't want to get that painful feeling in my tummy that I get when I walk through Barneys and know that I will never be able to afford all the clothes and accessories that I want. (Anyone else get the pain of "want"? It sucks, right?) Anyway, I'll entice you with just one of the beauties that would have been mine if, like, I sold one of my kids or something like that. That's right. It's bone and dark horn on brass. Drool away.
Back to reality. I knew I didn't want anything dark because the wall is dark teal and the table would just disappear against it. I'm drawn to white lacquer but since I have two white lacquered entertainment consoles on the opposite wall (see them here), I wanted to avoid a matchy look. (I almost overruled myself on this one when I saw Ikea's Malm console in the showroom. I mean who could say no to a $79 price tag? But ultimately, it was too long for the space. (It's 75 1/4″ in case you're wondering.) It's a great looking table in person though, and I highly recommend it if you need something long.
I thought about color and even ordered this blue console from Home Decorators Collection but the powder blue table that arrived was not the color of the aqua blue table I saw in the catalog. Sidenote: Why do catalog companies color "correct" their images so that they're not like the real product? That's just going to make me return it! As a magazine editor, we do everything to make sure the color on the page is like the original product – and this is editorial I'm talking about!  Here's what it looks like on their site now but I swear it was more of an aqua in the catalog back then. Maybe they fixed the picture because I'm not the only person who returned it!
I thought about something mirrored and seriously contemplated the West Elm mirrored Parsons table but $599 plus shipping was just too much. Plus, it's actually a desk making it a little too deep for the space and at that price, it would need to be perfect.
Then I saw this adorable bar cart from Serena and Lily.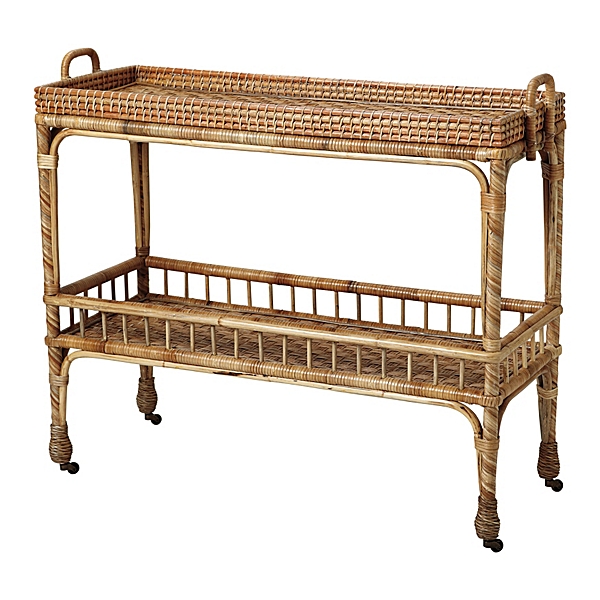 I've loved this company since back in the day when they just sold kids bedding but I always put them in the category of just-beyond-my-means pricing. Bonus about this beauty: Bar carts are so cool right now. But since Don Draper isn't expected to visit anytime soon, having a fully stocked and styled one would just feel too contrived for this wine/beer/Twisted Tea drinking pair. But…using one as as a foyer table? I liked that idea. And it was only $395. (Bonus – I had a $100 gift card to Serena and Lily just burning a hole in my pocket.) So, $295 plus $30 for shipping was something I could handle. Yet, I was dragging my feet. I don't know why but I'm glad I did, because S&L had a 20% off sale for Memorial Day weekend so I finally ordered it.
We were thrilled to come home one night to see a HUGE box sitting on the front step. But when I opened it up, I found this.
One of the handles had broken in transit. I figured a company like Serena and Lily would send me a new table but like a kid on Christmas morning, I wanted to play with my new toy now. So, I popped the handle back up and since it was wrapped in wicker, it stayed. But still, it wasn't stable and if anyone touched it, it would break. So, I called up Serena and Lily and spoke to the nicest customer service person ever named Debbie Lee. She apologized and said they could arrange to get this one picked up and send me a new one but I asked her if they could just give me some money back and I could try to fix it on my own. She put me on hold to check with her manager and came back in about a minute to tell me they could give me 50% off! It really was a win-win for everyone because they would have needed to pay for all the shipping back and forth plus they would be left with a busted table. So, this table that should have been $425 (including shipping) was in my grasp for only $88. Now, that's my kind of deal. And after a little wood glue, the handle is as good as new. It goes without saying that Serena and Lily has a customer for life. Now, I just need to start saving up for their Pondicherry Headboard. Love.
Tomorrow, I'll give you the full reveal but in the meantime, here's a little Instagram peek.
More foyer goodness tomorrow.  See you then!
XO
Sue at Home