Sometimes you surprise me with the the pins you really like. This time, not so much. I had a feeling when I found this cool picture of some stenciled stairs from the Lowe's Creative Ideas website (which, BTW, is a great place to find project ideas). So Lowe's…You win this week's Pin of the Week.
It got me thinking about my little set of stairs (only 6 steps since we live in a tri-level split). They were covered in brown carpeting when we moved in and we had them refinished when we did the floors. The risers remained full of staple holes and unpainted for longer than I care to admit but now that they're all crisp and white with the dark stained wood steps, I'm sort of happy with keeping them like they are. But sometimes, I have a desire to do something a little crazy. I remember seeing these painted steps in Domino a million years ago.  Even Pablo remembered them and brought it up recently. (You know it's good when he remembers it.) But, there's just something about painting my hardwood steps that terrifies me!
I remember seeing these disco-ball tiled stairs on Small Shop last summer and I nearly lost my mind. I was fully determined to do this to my risers. Seeing my mom gasp in horror at the thought just about solidified my desire but ultimately, I decided this was a DIY beyond my skills. It could only look good if it was done really, really well. (Don't think you won, Mom. My stairs might be disco-balled yet!)

Emily Henderson, who you know I am kind of in awe of (I mean, did you see her guest room?), recently posted pics of these steps at a client's house. She did a navy bannister. Yes, a navy bannister. Isn't it fantastic?

I nearly died when I saw these patterned stairs from Serena and Lily. Alas, they don't sell them so I'll have to be happy with just my S&L bar cart. And I can get busy trying to figure out how they did this: wallpaper? Removable wallpaper stickers? Handpainted? 

I found these striped stairs on a blog but there's no original source listed. Let me know if you've seen this before because whoever did this deserves credit!

More striped steps – this time from a Kate Spade pop-up shop in London.

A carpet runner is surely traditional but this one feels fresh. Maybe it's the fabulous pattern, or the black painted stairs underneath or that floor-to-ceiling gallery. Eric Cohler Design via Decorpad
I love that this looks like some total fancypants house but it still includes fun elements like this slide alongside a set of stairs. From
Forbes
.
I could deal with wall-to-wall if it looked like this.
Via Apartment Therapy
Chevron stairs vis Liz Caan interiors. A little bit of a duh but still perfect. Especially with that chair just sitting there. Dying.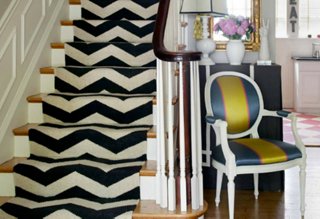 I wish I was brave enough to tackle a stencil because I love these from Royal Design Studio via The Style Files

LOVE these multi-colored spindles. Unfortunately, I have one spindle. Via Apartment Therapy.

Wowza. This one is like they're in my head. I mean, that aqua blue wall with a hot pink bannister? I would never leave home. Via Apartment Therapy. 
Of course, The Rug Company makes a peacock stair runner.
Lighted stairs are slightly spooky via Remodelista.
These rainbow stairs are low-commitment since the steps are left plain and it's only the riser you're messing with. Via Pinterest (let me know if you know the original source).  Maybe I could do this and use the colors of all the rooms in the house? Would that look crazy? I think yes.
Check out these spectacular rainbow spiral stairs from Dwell.
So, are you inspired? Looking for DIY help? To paint your own chevron stairs, check out this video tutorial via The Home Depot.
So, tell me…what do your stairs look like? Plain Jane like mine? For now, I'm sticking with the basic look but if anyone knows where I can get mirrored disco ball tiles, let me know!
XO
Sue at Home
Follow me on Pinterest to see the next Pin of the Week before it's a Pin of the Week. And check out these other Pin of the Week features: