I suppose putting DIY in the title of this post is a little misleading. It should be more like "figure-out-how-to-do-it-and-then-hire-someone-else-to-do-it-because-you-can't-sew". That's a little more honest. But if you can sew then you can absolutely do this yourself. Anyway…
I have a love/hate relationship with curtains. I mean, I get it – I know that they can totally transform a room but I find them to be a little fuddy duddy and too "designer-y" for my taste  – plus they are often A SMALL FORTUNE. For just a piece of fabric. It kinda makes me crazy.
Let me stop and remind you about the inspiration picture for our bedroom. Olatz Schnabel's bedroom from House Beautiful. Ahhh. I could just stare at this pic all day. It's so dreamy.
Yes, I'm aware we don't have high ceilings like that, nor do we have a gajillion dollar bed but still, I figured we can work with the color palette. Just go with it, ok?
(Sidenote: Before I get into telling you about the curtains I ended up with, let's just gloss over the EPIC CURTAIN FAIL that happened when I ordered 4 red silk shantung panels from Macy's. Small room with low ceilings + inexpensive but trying-to-look-expensive drapery panels = turning one's bedroom into a brothel. I'm not talking about a high class Heidi Fleiss kinda place. I'm talking about 8th and forty-deuce. It was HORRIBLE. They were quickly returned and we shall never speak of this again. Okay? Okay.)
So, I spent a lot of time looking high and low for some curtains for our bedroom. I knew I wanted something that would really pop against our blue walls. Something in either a bold red or a rich purple or even a major print. There were many I fell in love with – most from Anthropologie. Some are long gone now but the ones I was loving are similar to these:
The Marrakech Curtain – This would add an eclectic vibe.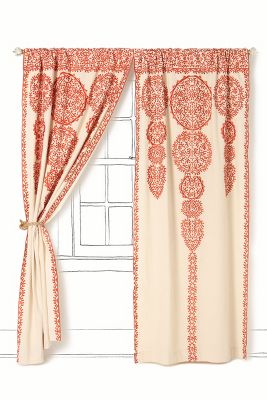 Wandering pleats – I love that rich purple color.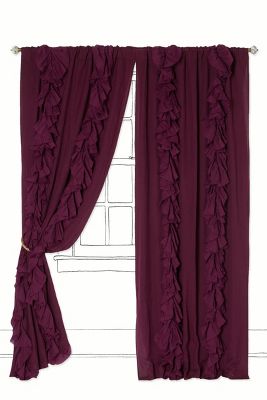 And the new Swing Stripes curtain (they've got POM POMS! And I love me some pom poms!)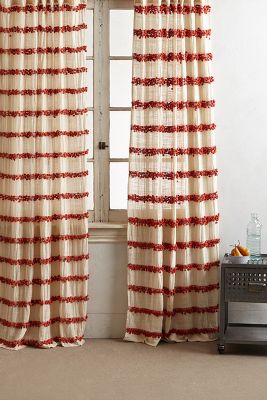 Since an Anthro curtain can run you from $148-188 per panel, these were all out of the question. (I needed 4 panels and there was NO way I would be spending $600+ on curtains when I don't even have a grown-up bed.  More on that at a later date.)
Then I started looking through the curtains at Anthropologie's little sister, Urban Outfitters, and there were a lot of pretty prints. They're all much lighter, semi-sheer cottons but I kind of like that look so I didn't mind. (Remember, I've got an aversion to thick, fancy, old ladyish "draperies".) I was thrilled when I found this amazing one that was kind of flourishy in purple, orangey-red and even a little of a light blue that kind of worked with our walls. (It's still available in other colors.)
I bought the longest length they had (84″) and I hung the rod a little bit above the window so the curtains skimmed the floor. I don't have a picture of this because I was embarrassed by how it looked.  Here's the problem: We all know that curtains need to be hung as close to the ceiling as possible so I knew I was trying to cheat and get away with a cheap solution. What was I thinking? (I know actually. I was thinking about doing it as cheaply as possible.)
In case it's unclear what I mean, check out the great post from Erin Gates of one of my favorite blogs, Elements of Style. She illustrates the problem in the most simple way:
Hanging curtains way up there just makes the ceilings look higher – and it gives the room a French boudoir feel to it. Ooh la la!
 But I had 84″ curtains and I needed 96″. So how to deal with too-short curtains? I ordered 1 extra panel from Urban and they were on sale at that point so I got it for a song. Then I brought all 5 of the panels to my tailor (that sounds so fancy but it's just my dry cleaner who hems stuff for me!) and asked her to cut the extra panel and add an extra 12 inches to the bottom of each curtain. Is it perfect? Nope! But I asked my dry cleaner to do it and I think she charged me $20 for all 4 panels so I'm not going to complain. (If I had done it myself, I probably would have been a little more anal particular about lining up the print perfectly but I'm quite sure they would not have been sewn straight.) See how messed up there are?
It's pretty obvious there but when I pull back it's not as bad. I don't think anyone would notice unless I pointed it out. See?
One cheap place where you can always count on finding long curtains is Ikea. They sell most panels in one long length that comes with hemming tape so you can make them any length you want. We have these polka dot ones in S's room. I think they look great and they were so cheap. You can't beat $13.99 for a pair! The hot pink crinkle sheers are from here.
Since I finally took some decent pics of our master, this will be the first in a series of posts about what's happening in the bedroom. (No. Not that stuff! Get your head out of the gutter!) So, make sure you subscribe to Sue at Home to see all the action. (Decorating action! Jeez. You should be ashamed.)
XO
Sue at Home